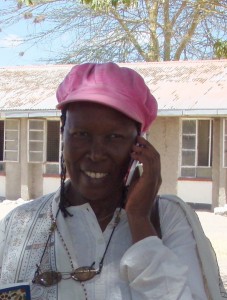 Corona-nyt fra Kenya
Livet er hårdt for mange, mange  mennesker i Kenya.
I det tidlige forår blev landet hærget af store græshoppesværme som åd – det der skulle have været den første gode høst efter mange års tørke. Efter det kom der så heftige regnskyl, som ikke er set de sidste mange, mange år. Det forårsagede store oversvømmelser og mudderskred der begravede huse og mennesker, ødelagde broer og veje og udslettede flere landsbyer. Oven i det kom så coronaen-smitten. Mange mennesker ser det de bibelske plager, der ramte Ægypten i det gamle testamente.
Endnu er der ikke så mange der er corona-smittede, men Kenya er et stort land, og det er ikke let at få overblik over smitten.
For at forebygge corona-smitte har regeringen opfordret alle til at blive testet, men lige nu bliver der kun udført en lille del af de planlagte test, og kun i de områder, hvor der er et højt antal syge.
De fleste har værget sig for at blive testet, fordi regeringen – indtil nu – har haft en regel om at alle med en positiv test, selv skal betale for at de bliver sat i karantæne. Karantæneforholdene er ofte i en af de tomme boardingschools, som i nogle tilfælde er uden ordentlige hygiejniske forhold, (adgang til vand til håndvask), så de fattige har ikke råd, og de rige ønsker ikke at blive sat i karantæne under elendige hygiejniske forhold sammen med mange andre syge.
Der er håb om at testningen bliver mere effektiv, fordi regeringen nu har besluttet at folk ikke selv skal betale for karantæneopholdet.
For godt en måned siden lukkede regeringen alle skoler på ubestemt tid. Pigerne blev sendt hjem til deres store  og fattige familier, som lige nu er endnu fattigere end tidligere, fordi mange af familierne lever af at producere til de lokale markeder – som også er lukkede. De mange familiemedlemmer bor tæt sammen på meget lidt plads, oftest uden vand og uden tilstrækkeligt mad.
Mens skolerne er lukkede sender undervisningsministeriet skolearbejde online gennem TV og radio, men det kræver at familierne har strøm, radio eller TV, og det er kun meget, meget få af 'vores pigers' familier der har adgang til. Det er en stor uretfærdighed, fordi pigerne mister flere måneders undervisning, og alligevel skal de måles med de børn, der har modtaget fjernundervisning. Den uretfærdighed rammer masaifamilierne og andre minoritetsstammer hårdt.
Da pigerne bor meget spredt, og mange kilometer fra Kajiado. og da beboerne i Nairobi og omegn ikke må bevæge sig udenfor deres lokalområde, er det indtil videre ikke muligt for Nenkashes medarbejdere at besøge pigerne og deres familier.
Silole og jeg har delt en uro for, at pigerne kan risikere at blive omskåret og bortgiftet, mens de bor i længere tid hos deres forældre. Det kan selvfølgelig ikke udelukkes, men Silole fortæller, at vi kan håbe på, at familierne er bange for at bryde loven, når myndighedernes øjne hviler på dem, fordi de flest af pigerne er ankommet til Nenkashe via de lokale børnemyndigheder eller det lokale politi.
Vi vil holde jer orienteret, når der sker ændringer med pigernes situation i Kenya.
NENKASHE EDUCATION CENTRE Newsletter December 2019
Nenkashe Kenya congratulates you for another year of educating 27 girls through varies levels of education!
Primary School: 2 girls, Keriasek and Joan Sanion finished Class 8 at the end of last year and have proceeded to join Secondary School. There are only 8 children remaining in Primary School, half of them will join Secondary School next year.
Secondary School on the other hand is getting more children, there are 14 girls this year in different levels of Secondary School.
Abigael Sainaipei completed Secondary School in December 2019. She passed with a top grade and will therefore be offered a vacancy at one of the leading Universities. She is now waiting, looking forward to begin her studies in September 2020.
College
Brenda Kantai completed her course at the end of last year as a Human Resource Diploma graduate, she is currently looking for a job as she waits for her examination results.
Zipporah Karato has finished her Tailoring course and is waiting for her examination results. She has plans to set up a tailoring shop at her local community.
Sylvia Resiato continues with her course as a Nursery School Teacher and continues to teach part time at the Nenkashe Nursery School
Jackline Semperuan who finished Secondary School. At the end of 2018 will be joining College in a week's time to do Food Science, Sales and Marketing. She has been impressive as she got her self a job while waiting to join College and was able to sustain herself. This is unusual for a Maasai girl.
University
Janet Reson is reading Geology at the University of Nairobi and enjoying it very much even though her initial choice was Medicine.
Seminar November 2019
Last year's workshop was about training the 35 girls on Adolescence and Life's Skills for 7 days.
The Objectives of the Seminar was
Skills in decision making
Skills in Communication
Self esteem
To train them in recognizing signs of stress, depression and seek help
Help them recognize good mentors in school and in the Community
Methodology
The method used was:
Presentation by the facilitators,
Group discussion
Group presentation
Brain storming and sharing of personal experiences from the invited facilitators.
The girls were happy and participated well, there was a good atmosphere amongst the girls and with the facilitators.
Newsletter July 2019
We are grateful to you Nenkashe Denmark for yet again managing to send the girls' school fees on time and as a result, all the girls reported back to their respective schools on time on the 2nd January 2019.
This year, Nenkashe has 12 Primary School girls and 2 boys, 12 Secondary School girls and 1 boy. 2 girls in college.
CHILDREN REPORT
Secondary School:
Two of the girls graduated from Secondary School in December 2018.
Janet Reson who was in Baraka Ontoyie Secondary School passed with a high Grade B Plain. This Grade qualifies Janet for a part governmental sponsorship. Unfortunatly it does not automatically open doors for her preferred Course which is Medicine. The Ministry of Education will place her according to availability of courses. This can be demoralizing for the bright kid. We await to see where she will be placed. She is admitted to University of Nairobi and starts in September 2019.
Jackline Semperuan was the 2nd girl to complete Secondary in Musa Gitau. Her interest is in Enviromental studies and awaits for a vacancy at a college based on her grade.
Two girls, Apofia Mpaada and Ann Resianoi both from the AIC school and one boy completed Class 8 level and all 3 joined form one successfully at the beginning of this year.
Brenda and Sylvia are both making good progress with their courses in college.
PRE SCHOOL
The school was also opened on 2nd January 2019. Most of the pupils reported on time.
The school now has play group, pp1, pp2, Grade 1 and Grade3, the total number of children is 40 pupil.
We wish you all a continued good summer and success in the coming loppemarked.
ACTIVITIES
NENKASHE EDUCATION CENTRE was privileged to be identified by the leading Telecommunication Company in Kenya called SAFARICOM to join together on a campaign called WEZESHA (to enable, to empower). NEC official were given a chance to select one girl school to be provided with sanitary towels.  Oloyiangalani Girls'secondary School where two of our girls are was selected. It was a fun day, with encouraging talks from the Safaricom team.
NEC also benefited from the campaign for getting several boxes of sanitary towel to be given out on the seminar day on November 2019.
Newsletter December 2018
So comes the end of our 7th year partnership with Støtteforeningen Denmark. It has been a journey with its ups and downs where 55 girls have gone through school education under your sponsorship. Many of the girls have gone through Primary School and onto Secondary School. Unfortunately some of the girls have dropped out of school along the journey because they got pregnant or that they chose marriage rather than school. It is a sad occasion for every time a girl drops out. We comfort and encourage ourselves to note that in each case, the parents have shown regret that the girls have had to drop out. Sad as it is to see these girls leave school, we must appreciate that they are at least years older and more mature than they were when they joined NEC several years earlier.
All the 27 girls have progressed satisfactorily throughout the last 6 months of the year.
3 of the Primary School children have completed Class 8 examination in October 2018 and all three attained marks for entry into Secondary School at the beginning of 2019.
2 of the Secondary School girls went through end of secondary school examination in November. One of the girls got top grades and is sure to be admitted to a top University. The 2nd girl has a challenging time ahead while she decides what option to take. She is ambitious and focused. Both girls have a bright future.
The 3 College girls are doing well. Brenda has recently completed the last examination and is now doing the last attachment (praktik) and then graduate for the diploma in June 2019. Sylvia continues at the Teachers' Training College for the Certificate course for Early Childhood Education in April 2019. She continues to teach (praktik) at the Nenkashe Nursery School in between courses.
Zipporah who is training in Tailoring begins her 2nd year of the Vocational Course in January 2019. She continues to do well and enjoys the course.
Seminar November 2018
The annual girls' seminar was finally held at the AIC school from the 5th to the 9th November. There were 23 Nenkashe girls and 14 girls from 2 different schools, all rescued from FGM, early marriage and child labour. The girls stayed at the AIC so the girls had opportunity to catch up and discuss the events of the day.
The girls' expectations were matched with the facilitators' and the Trainers': Livelihood Skills, Selfesteem, Relationship, Drug Abuse, Reproductive Health, Sex and Sexuality, Sexually Transmitted Infections (STI) HIV/AIDs
The Seminar was lively, the girls participated actively and the atmosphere was relaxed and cordial.
The methodology used was: presentation by facilitators, group presentation and discussions and evaluation including team building games.
Several women who had Leadership status and originated from backgrounds similar to the girls' including 2 young men had been invited to talk and encourage the girls. At the end of the Seminar, it was decided that 4 days were not adequate and the Seminar should be held at least twice a year.
The Nursery School
The Nenkashe Nursery School continues to grow and there were 38 children enrolled by the end of the year. Discussions continue for the eventual transfer of the School to the County's Ministry of Education.
There were several visitors' to the School during this year, amongst them, Marianne Widemann who visited in February, bringing with her many gifts of toys, games and material to be used for the Adult Classes when a promised teacher by the County becomes available. Marianne interacted with the children despite the language barrier.
Challenges
Another girl dropped out of the Nenkashe system in August as she was pregnant. Fortunately the girl had graduated from Secondary School and was about to enter a technical college. This had to be postponed until after delivery.
My visit to Denmark in September during and around the Fundraising event was as usual inspiring to see you at work. It is an enormous task and impressive for me as an outsider at how well you work, coordinate and cooperate the tasks at hand. I admire you. I am very grateful for the hard work that goes into raising funds for school fees and shopping for all the many girls.
The Nenkashe Kenya thanks each one of you for your dedication.
We wish you all a Happy New Year and continued friendship throughout 2019.
Silole
Newsletter December 2017
The Nenkashe Management Committee thanks each one of you for your generous donation that has enabled 29 children continue with their education for another full year.  18 children in Secondary Schools, 11 in Primary Schools and 2 girls in College.
The Primary school pupils went through the three semesters of the year uneventfully. Their holidays, spent at their respective homes went well and each one of them reported back to their boarding schools in time escorted by the parents. Three (3) girls sat for end of Primary School Examination Class 8 National Examination. One of them performed fairly well and will be offered a National Secondary School at the beginning of 2018. The other 2 might be offered vacancies at District Secondary School
Seneyia has completed Form 4 and is now waiting for the examination results. She is fortunate to have been offered a job as a saleswoman and training on the job.  The examination results will determine the next step.
Nasieku who was in St. Gabriel Secondary School dropped out of school to get married during the 2nd semester of her last year in Secondary School.
Brenda has completed 2 semesters in Kabete College where she is taking a course in Human Resources.  She will be doing attachment in the next semester. Resiato is happy with her course, training as an Early Childhood Education teacher.  Resiato will as from January 2018 have an opportunity of doing her attachment at the Nenkashe Nursery School as part of her training.
All the children are spending the Christmas Holidays in their respective homes.
The Nursery School
The Nursery school continues to grow and had 21 children at the close of the last semester.
Construction of the 2nd Phase:
The Organization has finally acquired the many Authorization Certificates that are required before construction is allowed to proceed.
Future Activities for the 1st 6 months of 2018
All public schools open on the 2nd January 2018
 The NEC takes Six (6) NEW needy girls between the ages of 10 to 12 years from January. The girls have been referred to the NEC by the Head of Schools and Village elders.
Pay school fees for all the children and facilitate shopping and transport back to school where necessary.
Initiate Adult Education using the Nursery School classrooms in the afternoons as the venue for learning how to read, write, sewing, knitting, hygiene, reproductive health and prevention of communicable diseases.
Organize the annual fundraising event for April 2018.
Organize the annual Girls Seminar for April 2018.
Thank you all for your support. I am looking forward to continued partnership in the year 2018.
We wish you warm greetings for the Holiday Season and wish you the best in 2018.